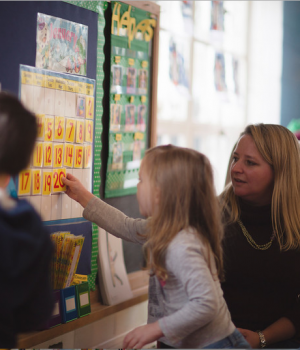 Ready, Set…Learn
Letter and number skills and kindergarten readiness are the main focus of The Episcopal Preschool's Pre-K program. Students are presented with challenging learning centers as well as short and long term projects that explore art, science, math, language arts, senses, and music and movement. Children are encouraged to ask questions, to seek out more information, and to learn to problem solve individually and in a group.  The Pre-K class participates in Spanish lessons on Fridays and attends weekly chapel.
EPS likes to approach cognitive development playfully, utilizing materials and activities that truly appeal to this age group, such as writing a letter to a parent, recreating a favorite story with puppets or counting out fish crackers! We believe that carefully directed play helps a child to think critically, solve problems creatively and develop a positive attitude toward school—traits that support future learning as much as do solid letter and number skills.
Age: 4 years old before September 1
School Days: Monday through Friday
Time: 8:50 to 11:30 a.m.
Staff: 1 Lead Teacher, 2 Assistant Teachers
Students: 20
Pre-K Class Daily Schedule

8:50 – 9:10     Student Arrival, Wash Hands, Free Choice Time
9:10 – 9:30     First Circle, Daily Lesson
9:30 – 10:10    Free Choice Time, Art & Discovery
10:10 – 10:20   Clean-up, Quiet Book Time
10:20 – 10:40  Second Circle: Stories and Music
Chapel (Wednesday only)
Spanish (Friday only)
10:40 – 10:45   Bathroom, Wash Hands for Snack
10:45 – 11:00    Snack
11:00 – 11:30    Outdoor Play
11:30 – Dismissal for home